Luca Signorelli, Galleria Nazionale dell'Umbria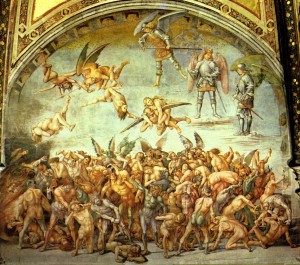 http://www.mostrasignorelli.it/
Perugia, corso Vannucci 19
Luca was born in Cortona and, according to Vasari, learned to paint from Piero della Francesca. Although no works from his earliest years have survived, those painted after 1470 are similar in style to his teacher. The influence of Verrocchio which can also be seen in these early works would seem to indicate that he had some sort of contact with Verrocchio's workshop in Florence.
He must then have worked with Perugino in Rome, helping with the frescoes in the Sistine Chapel, particularly the Testament of Moses. After remaining in Rome for quite an extensive period of time he returned home and was given some interesting commissions such as the Annunciation in Volterra.
This was followed by the fresco cycle Scenes from the Life of St. Benedict in the monastery of San Oliveto Maggiore (Siena), and between 1499 and 1501 the San Brizio Chapel, his most important work.
The painter did not always reside in Orvieto and he created other works, such as the San Sebastian, in Città di Castello, and the Lamentation at the foot of the Cross, in Castiglione Fiorentino.
His workshop became increasingly busy and several assistants were employed, including his grandson, Francesco. In 1508 he was summoned to Rome to paint the large rooms in the Vatican but of this work nothing remains. He died in Cortona in 1523.